200BHP+
Posts: 251
Joined: Fri Jan 20, 2017 8:38 pm
Engine size/power: 1.6 CR TDI (102bhp)
Sent from my iPhone using Tapatalk
---
200BHP+
Posts: 203
Joined: Sun Oct 08, 2017 6:12 pm
It's alright.....I can give up anytime.....If I want to!
But the exhaust pipe thoughts had entered my mind!
---
200BHP+
Posts: 203
Joined: Sun Oct 08, 2017 6:12 pm
Yesterday I fitted my new dynamic smoked side repeaters
I love China!
I also attempted to fit my new smoked high level brake light.....It didn't work. I hate China!
My lense was smashed though, so I pulled the Chinese one apart (It was obviously used and returned, as it had installation scratches on, but I couldn't be bothered to return it) And made the lense fit the original. It took a bit of fettling/bodging, but it works, albeit very dark. I might have to mod the inner clear magnifying lense too, as I reckon more light gets through that....or the led's in the Chinese one are brighter. We'll see.
I also took the rear shackles apart again to try to sort out the rear nearside wheel.....it seemed to be sitting crooked, with a little bit of 'toe-in'.
I have the other type of leaf springs with the 15mm stud that can't be removed. The stance+ kit comes with a bush for locating on the bottom plate. I removed this, which allowed me to move the axle back a fraction, so it made the wheels a bit more central and seemed to straighten the nearside wheel up a bit.
When it stops raining, I'll take it apart again and drill a 15mm hole in the bottom plate, 20mm from the original centre and this should relocate the axle where it needs to be.....There also seems to be a bit of a 'clonk' since fettling yesterday, so that needs sorting.
Needs a side rail cover desperately!!
---
200BHP+
Posts: 203
Joined: Sun Oct 08, 2017 6:12 pm
I had a bit of a 'sizing issue' today!
My alloys came with some centre caps that were way too small (I'm not complaining though, as they were a bargain!), so I ordered some 65mm in a cider fury without measuring them..... then ordered some 70mm, in case I was wrong!
Neither time did I go out to the van, in the rain, and measure!!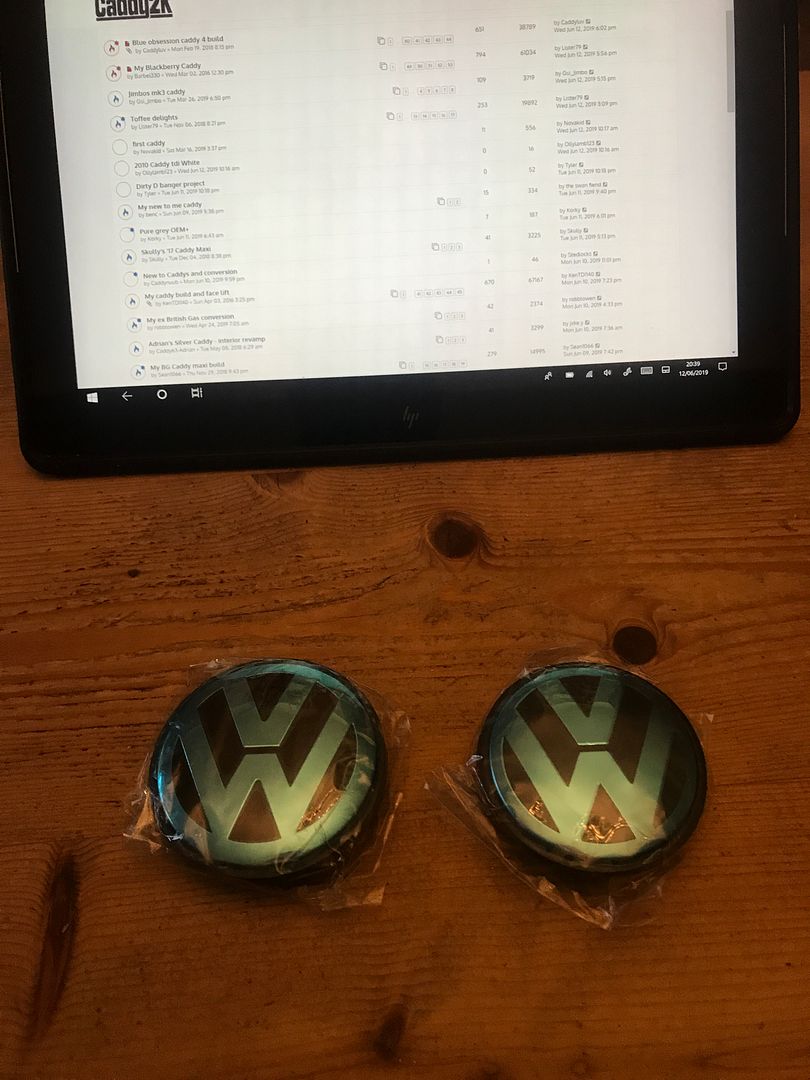 Anyway, turns out I need 76mm!
I'm going to trim the backs of these flat, and see if I can make them look good enough to stretch to the blank ones the wheels came with.
I've also bought some plasti dip for the rear windows.... how badly can it go??
---